---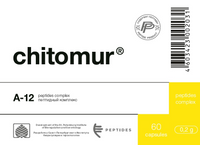 Sale
Chitomur is a dietary supplement with natural bladder peptides. They normalize the function of the bladder by reducing its peptide deficiency. Their performance is gentle and gradual. Their effect continues to grow even after finishing the supplementation course and may last up to 3-6 months.
Urinary incontinence is a common health problem for many people, and it has a large impact on quality of life. Men over 40 often have poor bladder control caused by prostate issues. Women who have had a child are more likely to have poor bladder control as well. There are also various diseases that affect the bladder.
Ingredients: bladder peptides, microcrystalline cellulose, gelatin, lactose, calcium stearate.
Directions: 1–2 capsules two to three times daily, 30 minutes before meals. Duration: 1 month. Repeat every 3–6 months.