---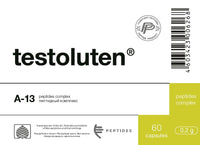 Sale
Testoluten is a dietary supplement with natural testicular peptides. They normalize the function of the testes by reducing their peptide deficiency. Their performance is gentle and gradual. Their effect continues to grow even after finishing the supplementation course and may last up to 3-6 months.
In the male reproductive system, aging changes take place mainly in the testicles. Testicular tissue mass decreases, and the level of the male sex hormone, testosterone, goes down, reducing sex drive. Problems getting an erection become more common with age. This usually produces significant psychological consequences for most men.
Ingredients: testicular peptides, microcrystalline cellulose, gelatin, lactose, calcium stearate.
Directions: 1–2 capsules two to three times daily, 30 minutes before meals. Duration: 1 month. Repeat every 3–6 months.