---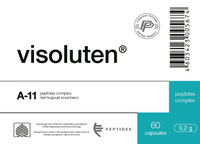 Sale
Visoluten is a dietary supplement with natural eye peptides. They normalize the function of the eyes by reducing their peptide deficiency. Their performance is gentle and gradual. Their effect continues to grow even after finishing the supplementation course and may last up to 3-6 months.
Nowadays, more people than ever have vision problems due to increased computer use, both at home and at work, as well as increased television watching. As the eyes give the brain more than 75 percent of the information humans receive, loss of vision greatly impairs quality of life.
Ingredients: eye peptides, microcrystalline cellulose, gelatin, lactose, calcium stearate. 
Directions: 1–2 capsules two to three times daily, 30 minutes before meals. Duration: 1 month. Repeat every 3–6 months.