---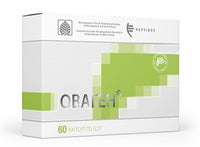 Sale
Ovagen is a dietary supplement with а synthesized liver peptide.
Synthesized peptides have an immediate impact compared to natural peptides and have a faster, yet more short-lived effect (1.5-2 months). Such peptides are typically used to start the initial peptide deficiency treatment. However, it is advised to switch to natural peptides as a follow-up course.
Ingredients: peptide AC-3 (leucine, glutamic acid, aspartic acid). Inactive ingredients: microcrystalline cellulose, gelatin, lactose, calcium stearate.
Directions: 1–2 capsules one to two times daily, 30 minutes before meals. Duration: 1 month. Repeat every 4–6 months.