---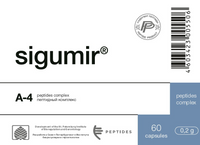 Sale
Sigumir is a dietary supplement with natural cartilage and bone peptides. They normalize the function of the joints and bones by reducing their peptide deficiency. Their performance is gentle and gradual. Their effect continues to grow even after finishing the supplementation course and may last up to 3-6 months.
Over time, our cartilage can become weaker and less effective, leaving us prone to discomfort and pain through posture deformities and conditions such as rheumatism and arthritis. The joints and spine are often people's weakest area.
Nowadays, even teenagers may experience back pain. However, people over 35 are affected the most—especially women who wear high-heeled shoes and men who do heavy lifting or work at a job with high physical activity. Problems with joints or the spine always occur when people exercise too much or too little.
Another group at risk are elderly people, especially women after menopause, because their bone density dramatically decreases. If you're elderly and you break a bone, your chance of dying shortly afterwards increases.
Cartilage and bone tissues are very resistant and do not respond well to corrective measures. This is why it is crucial to support them ahead of time.
Ingredients: cartilage peptides, microcrystalline cellulose, gelatin, lactose, calcium stearate.
Directions: 1–2 capsules two to three times daily, 30 minutes before meals. Duration: 1–3 months. Repeat every 3–6 months.