---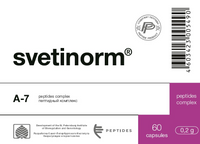 Sale
Svetinorm is a dietary supplement with natural liver peptides. They normalize the function of the liver by reducing its peptide deficiency. Their performance is gentle and gradual. Their effect continues to grow even after finishing the supplementation course and may last up to 3-6 months.
Our livers are essential for removing toxins and secreting digestive hormones, which, if not performing at their peak, can cause serious health issues. The liver is responsible for more than 500 important functions in the body. It regulates chemical levels and blood clotting, removes bacteria from the bloodstream, and cleans it from poisonous substances.
The liver produces enzymes that manage the whole digestion process. Thus, quality of life depends on the health of this organ, which is often impaired due to an unbalanced, irregular diet, medication use, and infections. 
Ingredients: liver peptides, microcrystalline cellulose, gelatin, lactose, calcium stearate.
Directions: 1–2 capsules two to three times daily, 30 minutes before meals. Duration: 1 month. Repeat every 3–6 months.