---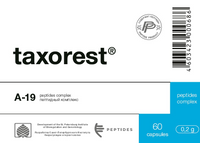 Sale
Taxorest is a dietary supplement with natural bronchial mucous peptides. They normalize the function of the lungs by reducing their peptide deficiency. Their performance is gentle and gradual. Their effect continues to grow even after finishing the supplementation course and may last up to 3-6 months.
The respiratory system transfers oxygen into the blood and removes carbon dioxide. In order to function properly, the body needs a sufficient supply of oxygen. Only four minutes without it can cause permanent damage to the brain. Thus, it is crucial to keep the respiratory system healthy by avoiding injuries, inflammation, and infections, as well as supporting the bronchial mucous. 
Ingredients: bronchial mucous peptides, microcrystalline cellulose, gelatin, lactose, calcium stearate.
Directions: 1–2 capsules two to three times daily, 30 minutes before meals. Duration: 1 month. Repeat every 3–6 months.