---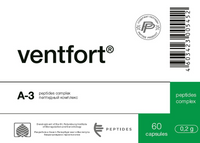 Sale
Ventfort is a dietary supplement with natural aorta peptides. They normalize the function of the blood vessels by reducing their peptide deficiency. Their performance is gentle and gradual. Their effect continues to grow even after finishing the supplementation course and may last up to 3-6 months.
With age, the blood vessels become more rigid and are affected by atherosclerosis. As a result, vessels often cannot provide sufficient blood circulation to all tissues. Nowadays, coronary artery disease (hardening of the arteries in the heart) is the leading cause of death in both men and women. Moreover, in every case, there is some lack of blood supply involved. In order to heal the disease, blood supply must be restored, which is why supporting blood vessels is important.
Ingredients: aorta peptides, microcrystalline cellulose, gelatin, lactose, calcium stearate.
Directions: 1–2 capsules two to three times daily, 30 minutes before meals. Duration: 1 month. Repeat every 3–6 months.